CYBIRD Co., Ltd. (Headquarters: Shibuya Tokyo, President and CEO: Tadashi Motojima, hereinafter "CYBIRD") produced NFT project IKÉMEN COLLECTION: Blooming Garden's ROSE art became available for purchase on July 28th at 12 pm JST.
 Both The Flower (Free Mint) and The Art were released at the same time. To truly appreciate the beauty of the artwork, The Flower (Free Mint) features a 1/1 close-up, and The Art is the only single 1/1 copy that exists in the world.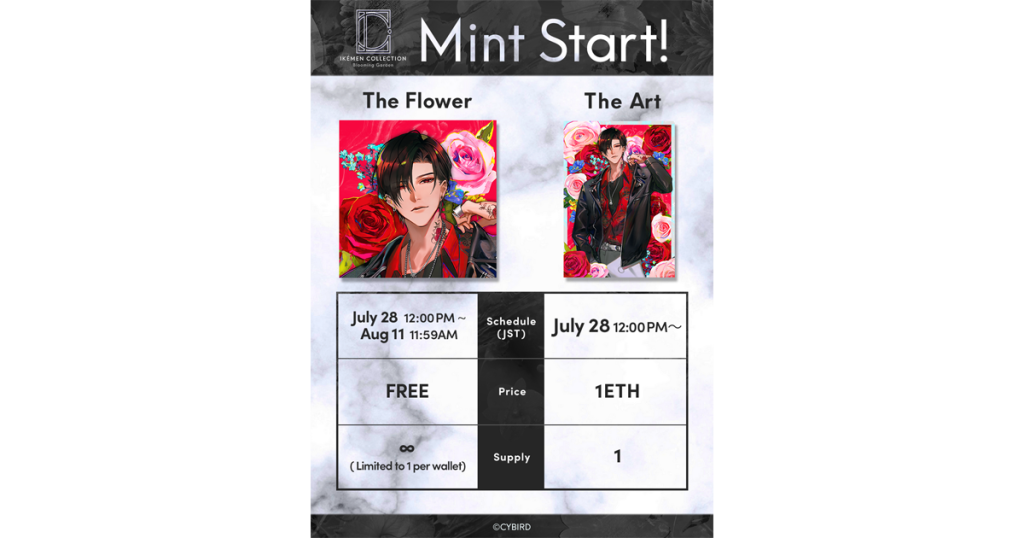 This project features gorgeous male Ikémen characters with the hope that everyone will become more interested in NFTs. Not only as an investment, so that this world of IKÉMEN COLLECTION can be enjoyed forever, a Free Mint and 1/1 Art are now available.
The previously unveiled artwork of the five boys with flowers will continue to be sold, starting with the ROSE series. Owning this beautiful IKÉMEN COLLECTION artwork by illustrator, RIZ3 (https://twitter.com/Riz3al97), will bring radiance into your daily life.
■About ROSE NFT
IKÉMEN COLLECTION: Blooming Garden's ROSE, Free Mint (Free NFT) and 1/1 Art, are both available for purchase.
IKÉMEN COLLECTION: Blooming Garden -The Flower- (Free Mint)
Place: https://app.manifold.xyz/c/icbg-flower-rose
Dates: July 28th (Fri) 12 pm until August 11th (Fri) 11:59 am JST
Cost: Free
Amount: ∞ (1 per wallet)
   * Gas fee required
   * Issued via ETH Chain
IKÉMEN COLLECTION: Blooming Garden -The Art- (1/1 Art)
Place: https://opensea.io/collection/icbg-art
Dates: Available Starting July 28th (Fri) from 12 pm JST
Cost: 1 ETH
Amount: 1
IKÉMEN COLLECTION Details:
Official Twitter: https://twitter.com/ikemen_collect_
Official Site: https://ikemen-collection.net
IKÉMEN COLLECTION Concept:
Brighten Your Day
For joy and enchantment,
Color your days with a world of beauty
IKÉMEN COLLECTION – A piece of treasure, just for you